Travis Heermann has been a freelance writer since 1999. Publishing credits include dozens of magazine articles, role-playing game content for both table-top and online MMORPGs, and short fiction. For more about his publishing credits, check out the Bibliography page.
In early 2012, he added Award-winning Screenwriter to his list of accomplishments. His screenplay Death Wind (as yet unproduced), written with Jim Pinto, was awarded first place in the Screenwriting Contest at the Cinequest Film Festival in San Jose, CA.
He attended the University of Nebraska at Lincoln and graduated with a B.S. in electrical engineering, and spent several years working as an electronic design engineer. In 2003, he shifted his career path from engineering to education, and moved to Japan for three years, where he taught English in public junior high and elementary schools.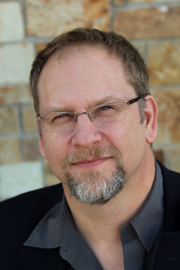 Nothing makes a person more aware of the structure and idiosyncracies of English than having to explain it to someone else. With intensive study, he also learned to speak and write Japanese. You can find more information about these experiences, including essays on Japanese history and culture, elsewhere on this web site. He recently received his Masters Degree in English from the University of Nebraska at Omaha, specializing in Advanced Writing.
He wrote his first novel at the tender age of 14, a dreadful but loving mishmash best described as a John Carter of Mars "homage.". He grew up on the lonely plains of rural Nebraska reading about hobbits, vampires, Cimmerians, Tharks, and Jedi, forever twisting him into his current, hopelessly warped persona.
Since high school - in addition to being an engineer, an English teacher, and a writer - he has been, in no particular order: a museum attendant, a bookseller, a referee, a farmer, a construction worker, a comic shop clerk, a pilot, a game designer, and a private English tutor. If a day ever goes by when he does not learn something new, he will probably be dead.
Living in Japan proved to be a springboard to seeing the rest of Asia. Beautiful Bali, with its lush jungles, breathtaking coral reefs, and entrepreneurial spirit fighting against persistent poverty and terrorism. Untamed Cambodia, with the ancient magnificence of Angkor Wat, against its backdrop of crushing poverty and brutal, heartbreaking history. Vivacious Vietnam, with the endless friendliness, ingenuity, and perseverance of the Vietnamese people, struggling to recover from decades of war and isolation. Wild, exotic Thailand, with its rich, fascinating culture, fantastic food, surprise and wonder around every corner, bejeweled temples and shining golden Buddhas. And most of all Japan, a wonderful, endlessly puzzling dichotomy, a vibrant ultra-modern economy with five hundred-year old shrines on every mountain. At the same time, more modern than America and as primitive and simple as it was hundreds of years ago, a country where people forego chairs to sit on woven reed mats to view cherry blossoms and talk to friends on hi-tech cell phones. As a general warning, if you attempt to engage him in conversation on any of these topics, he'll likely exhibit the tendency to chew your ear off about them.
Nowadays, he writes full time. When he's not writing, he's probably playing a game of some sort, these days preferably Texas Hold 'Em, reading novels or history books, cooking, cycling, or exploring strange and wondrous places. His long-cherished dreams are: a NYT bestseller, a produced screenplay, and a seat in the World Series of Poker.