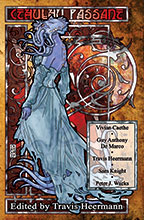 I am delighted to announce the release of Cthulhu Passant, a collaborative project that includes two Bram Stoker nominees, Peter J. Wacks and Guy Anthony De Marco, plus the talents of Vivian Caethe and Sam Knight.
Strange things can happen at conventions.
A group of writers can be sitting around in the bar talking about writing, talking about the composition process, talking about challenges, talking about Lovecraft, talking about chess, and then suddenly we've challenged each other to write a Lovecraftian story with chess as a principal element.
And then we'll put them all together into an anthology and publish it for charity!
So what charity? How about programs to benefit battered women? Perfect! Let's do this!
So we did it. And here it is.
Along the way we picked up the artistic talents of Chaz Kemp, who created the awesome cover illustration, plusillustrations for each of the stories.
The intricacies of chess meet the matchless Mythos of H.P. Lovecraft. Stories of doors, of passages, of patterns. Squares and threats, moves and counter-moves. Forbidden knowledge and cosmic horrors.
… Two young lovers and the hand that plays them
… A man trapped with an unwholesome companion uncovers the secret of a cosmic struggle
… A professor and his protégé find themselves pawns on an ancient chessboard
… A young Soviet boy's chess match holds the fate of his nation in the balance
… A battered woman seeks safety in a shelter, only to find there might be no safety anywhere
All proceeds from this book go to benefit programs for women suffering from domestic violence.

Available everywhere in print and ebook. However, if you want to maximize your charitable support, buy directly from the publisher here.