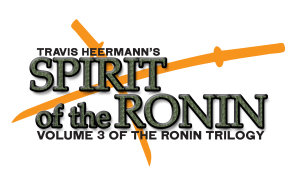 Well, at least it's heart-stopping for me. It's been pretty quiet around these parts, as I tend to devote myself more to production and development of fiction than actually blogging.
But I want to announce that the Time has come for the Book 3 of the Ronin Trilogy.
The Kickstarter campaign for Spirit of the Ronin launched today, Thursday, January 22nd.
Here's a link to the Kickstarter.
This is the culmination of a story fifteen years in the making. The Ronin series has been a work of passion for me since 1999, a story that changed my life, and now it's finally time to finish the story.
And with your help, we're going to make something cool!
But here's the thing:
Kickstarter campaigns live and die by momentum, or the lack thereof. Here are a few statistics.
Kickstarter campaign success rate for publishing projects: 30.9% (this is down about 12% from two years ago, due to increasing competition).
79% of projects that raised more than 20% (in our case $1,000) of their goal within the first week were successfully funded.
90% of projects that raised more than 30% (in our case $1,500) of their goal within the first week were successfully funded.
The percentages show that once a campaign gets initial traction, it is most likely to be carried to successful conclusion. These statistics rely on campaigns building momentum early, like within the first week. Much like a duel between samurai, the quickest to the cut often wins.
You can be part of that momentum, that initial push that blasts it across the finish line.
People who enjoy contributing to Kickstarters sometimes want to ride in at the last minute and push the campaign past the finish line. If that's your thing, I love you, please do. Or maybe you need to wait on a paycheck. That's cool too. Rent and food for the kids come first. But there's a way you can help with early momentum and fulfill your desire for that last minute cavalry charge: Kickstarter lets you change your pledge. Even if you plan to pledge for a larger reward package near the end of the campaign, it is still really helpful of you could pledge $10.00-25.00 at the beginning, and then change your reward level later. (Remember that nothing gets charged to your account unless the campaign funds successfully.)
Aside from financial support, the next biggest thing you can do is to tell people about this. Surely you have friends and family that might enjoy the story. Facebook, Twitter, Google+, Pinterest, word of mouth in coffee shop, whatever your preferred method, your personal outreach could be the one that pushes the campaign to critical mass.
The next month is going to be a roller coaster with a 150-ft. vertical loop and 90 mph drops, which is to say, gut-wrenching + terrifying + awesome.
Please help.
Thank you.
Want to see how the project is going? Check this out.