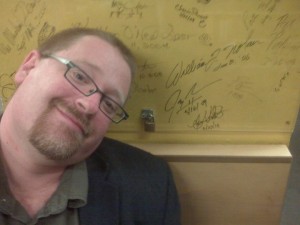 Ken Scholes is the award-winning author of four novels and over forty short stories. His series, The Psalms of Isaak, is being critically acclaimed as "a towering storytelling tour de force" by Publishers Weekly. Ken's eclectic background includes time spent as a label gun repairman, a sailor who never sailed, a soldier who commanded a desk, a preacher (he got better), a nonprofit executive, a musician and a government procurement analyst. He has a degree in History from Western Washington University and is a winner of France's Prix Imaginales for best foreign novel and of the Writers of the Future contest. Ken is a native of the Pacific Northwest and makes his home in Saint Helens, Oregon, where he lives with his wife and twin daughters.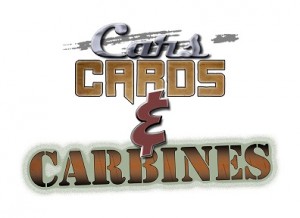 At the World Fantasy Convention in San Jose in 2009, I attended Jay Lake's Guerilla Cheese Party, at which everyone was treated to the musical stylings of Ken Scholes with his guitar and harmonica.  Who says writers can't be multi-talented?  The pinnacle of that performance was Ken's rendition of U2's "Still Haven't Found What I'm Looking For," sang as if in duet by Queen Elizabeth II and Bob Dylan.  When someone asked him how he had worked out whose voice sings which lines, he replied, "The voices just take over when they think they should."
We're looking forward to hearing what the voices say for this project. We're stoked to have him on board.
TH: What writers are some of your biggest influences?
KS: Ray Bradbury is up at the top. Stephen King, Robert E. Howard, Edgar Rice Burroughs, Philip K. Dick, Howard Waldrop, Elmore Leonard, John Steinbeck. Beyond that, it's a vast list. I've read widely inside and outside the genre, along with a pretty good smattering of poetry and classics.
TH: What are some of your guilty pleasures?
KS: Oh, I never feel guilty about them. Sappy romantic comedies, British television and all things acoustic folk rock.
TH: What has been your favorite project to date and why? What was so satisfying and exciting about it?
KS: I think it was being invited by Wizards of the Coast to write a Dungeons and Dragons story. I had met a woman at a convention party years earlier who, after the first books in the Psalms of Isaak came out, read somewhere that I was a D&D kid back in the day. Because she enjoyed my books and remembered meeting me, she got in touch and I learned she'd become an acquiring editor at Wizards of the Coast. It was a fun project that paid homage to a really important component in my development as a storyteller.
TH: What are you working on now?
KS: I'm a handful of weeks away from finishing Hymn, the final volume in the Psalms of Isaak.
TH: What attracted you to the Cars, Cards & Carbines anthology project?
KS: It sounds fun and different from the project I've been working on for nearly seven years. A nice way to cleanse my writerly pallet after I finish up this last book.
TH: What genre or mash-up of story are you most likely to contribute to the anthology? Do you have a story already in mind?
KS: I have no idea. But the ingredients will go into the pot and there will be Story Soup when the timer goes off.
There will be no Story Soup without your help. Please support our Kickstarter project. Without the support of people like you, yes, you, dear Reader, this project will be left cold and uncooked on the stove top. If you can't back it, you can help by spreading the word. Thank you.