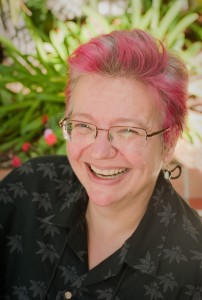 Cat Rambo lives, writes, and teaches by the shores of an eagle-haunted lake in the Pacific Northwest. Her 200+ fiction publications include stories in Asimov's, Clarkesworld Magazine, and Tor.com. Her short story, "Five Ways to Fall in Love on Planet Porcelain," from her story collection Near + Far (Hydra House Books), was a 2012 Nebula nominee. Her editorship of Fantasy Magazine earned her a World Fantasy Award nomination in 2012.
Cat Rambo is as gracious as she is prolific. It's hard to find an anthology lately that she doesn't have a story in.  And she has the coolest name. We're excited to have her on board for Cars, Cards & Carbines.
TH: What writers are some of your biggest influences?
CR: Samuel R. Delany, Colette, Andre Norton, Connie Willis, Djuna Barnes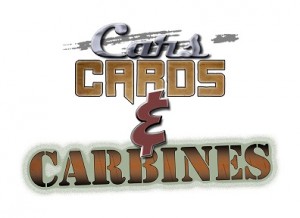 TH: What are some of your guilty pleasures?
CR: I have many, but I feel too guilty about them to reveal any.
TH: What has been your favorite project to date and why? What was so satisfying and exciting about it?
CR: I think the most satisfying to date has been my collection, Near + Far, because it turned out so beautifully and because so many of my favorite people contributed to it. It ended up being a real work of art.
TH: What are you working on now?
CR: I just finished up a nonfiction project, Creating an Online Presence, which is about the Internet for writers, and I'm starting to poke at a weird western alternate history that I've been writing some stories in.
TH: What attracted you to the Cars, Cards & Carbines anthology project?
CR: It's a nicely loose theme. I don't like the very constrictive ones — I need a little room to play around in.
TH: What genre or mash-up of story are you most likely to contribute to the anthology? Do you have a story already in mind?
CR: I really am not sure yet. I'm still in the playing with ideas stage, at which point anything could happen. 😉
Please support our Kickstarter project. Without the support of people like you–yes, you, dear Reader–nothing will happen. If you can't back it, you can help by spreading the word. Thank you.