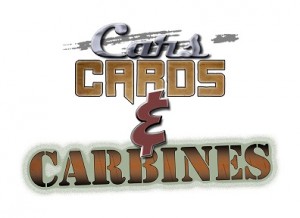 Pardon me while I sweep away the dust and dead crickets….
OK, now to business!
I went to a workshop on writing for and editing anthologies last spring, and since then I've had the bug to try my hand at editing. I spent a few months percolating ideas of various kinds, how I would go about putting such a book together, who I would try to get, etc.
The idea for Cars, Cards & Carbines grew out of brainstorming things that I think are a lot of fun, and then I thought of the alliteration, and then this wild idea of Mad Max meets Maverick and The Wild, Wild West (the TV show, not the awful movie). And since I'm a fan of Quentin Tarantino and Robert Rodriguez, let's throw them in there, too!
I ran into an editor friend, John Helfers, whom I've worked with on three projects to-date, at DragonCon this year, told him about my idea, and a couple of beers later, we had a plan.
One cool thing about putting together this kind of anthology (aside from the sheer talent we've already assembled) is the way the three elements of the theme can be stretched. "Cars" can mean a lot of things: hot rods, getaway cars, train cars, mine cars, horse-drawn carriages. While originating from a Poker theme, "Cards" can be expanded into things like credit cards, tarot cards, programming cards, green cards, and more. And of course "Carbine" literally means a short-barreled rifle generally used by cavalry, but could easily reach into all sorts of firearms across almost any milieu.
Yesterday, I launched a Kickstarter campaign to fund this project. The list of authors we've put together are a Who's Who of genre fiction, and we're excited to have them.
Mario Acevedo
E.C. Ambrose
Kevin J. Anderson
Jay Bonansinga
Nancy Holder
D.B. Jackson
Mur Lafferty
Jay Lake
Nick Mamatas
Seanan McGuire
Norman Partridge
Cat Rambo
Kristine Kathryn Rusch
Ken Scholes
Dean Wesley Smith
In the coming month, we're hoping to spotlight all of our authors here, so stay tuned.
The Kickstarter can be found here –> http://www.kickstarter.com/projects/1883407/cars-cards-and-carbines-multi-genre-fiction-anthol
Please consider supporting this project. If you can't back it directly, please help spread the word; social media, emails, or even just chatting with friends. I'd wager you know a few people who might get as excited about this idea as we are. And the beauty of crowd-funding, as you may have already experienced, is that backers get not only the rewards (and we do have some cool stuff) but they also get to watch the project take shape.
Thank you for your support.