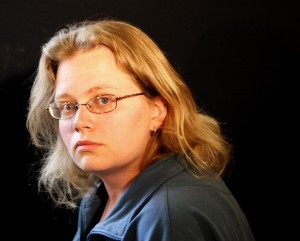 Hugo Award-winner Seanan McGuire writes things. Constantly. She cannot be stopped. She will destroy us all. Where is the hero who will save us? Oh. The hero is reading the things she wrote. We are all doomed. To stave off the agony, we recommend reading some of the things Seanan has written, either under her own name, or under the name "Mira Grant." People seem to like the things she writes, which is nice.
Seanan McGuire is the author of eleven novels and dozens of short stories published in places like Lightspeed, Fantasy Magazine, and Apex Magazine. We are thrilled to have her working with us on the Cars, Cards & Carbines anthology project.
TH: Who are some writers who have influenced you?

SM: Stephen King, Kelley Armstrong, William Shakespeare, and James Tiptree, Jr.  You know.  The usual suspects.
TH: What are some of your guilty pleasures?
SM: I have no guilty pleasures.  I take no guil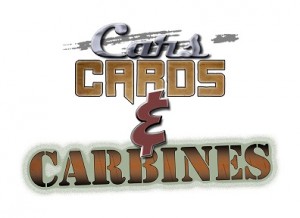 t from anything that I enjoy.  Guilt is a waste of energy that could be better spent doing things like eating another cookie.
TH: What has been your favorite project to date and why? What was so satisfying and exciting about it?
SM: Getting my mother, sister, and best friend to Disney World.  It took a lot of work and coordination, but damned if it wasn't worth it to see Mom's face when she saw the Castle for the first time.
TH: What are you working on now?
SM: The second Parasitology book, the fourth InCryptid book, and a metric shit-ton of short stories.
TH: What attracted you to the Cars, Cards & Carbines anthology project?
SM: I was asked to participate.  I like that in an anthology.
TH: What genre or mash-up of story are you most likely to contribute to the anthology? Do you have a story already in mind?
SM: That's what you're gonna have to read the book to find out.  It's a surprise!
Please support our Kickstarter project. Without the support of people like you, yes, you, dear Reader, there will be no surprises and no cookies but all kinds of guilt!  If you can't back it, you can help by spreading the word. Thank you.