I made several trips to Hiroshima during my stay to visit my friends Hironori, Mio, Kayo, and Ayaka. My impression of Hiroshima is that it is a city that has owned its history as ground zero for the world's first atomic bomb attack. No one has forgotten it, but at the same time, the people of Hiroshima do not seem to dwell on it. Nowadays, ground zero is the site of sprawling Peace Park filled with monument, shrines to world peace, and museum with relics of the attack. The city holds huge festivals in the Peace Park, on the very site of utter devastation not so many decades ago.
The Peace Park
Perhaps the most famous is the Dome, which was spared the effects of the atomic blast by being directly under the detonation. This building is the only one within the blast radius of the A-bomb to remain standing. It was the Industrial Promotion Hall. This is a World Heritage Site. Somewhere nearby is the Memorial Mound, with the ashes of tens of thousands of people who were cremated on the spot. Everything else around it was leveled.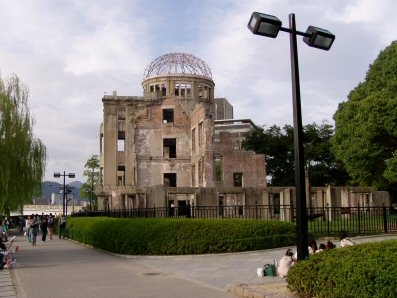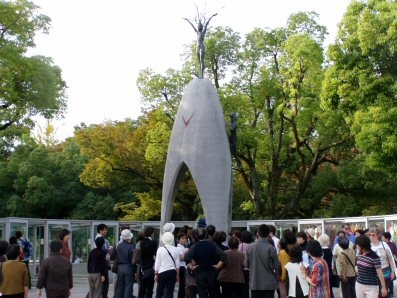 Behind Hironori and Mio, you can see the little flame. Near this monument is a plaque that says this flame will burn until the day the world is free of nuclear weapons.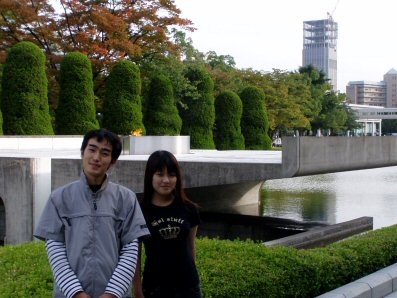 Behind Mio and Kishi is another monument. The plaque beside this one reads as follows:
MEMORIAL MONUMENT FOR HIROSHIMA, CITY OF PEACE
Erected 6 August, 1952
This monument was erected in the hope that Hiroshima, devastated by the world's first atomic bomb on August 6, 1945 would be rebuilt as a city of peace.

The epitaph reads, "Let all the souls here rest in peace; For we shall not repeat the Evil." It summons people everywhere to pray for the repose of the souls of the deceased A-bomb victims and to join in the pledge never to
repeat the evil of war. It thus expresses the "Heart of Hiroshima," which, enduring past grief and overcoming hatred, yearns for the realization of true world peace with the coexistence and prosperity of all humankind. This monument is also called "The A-Bomb Cenotaph," for the stone chest in the center contains the register of deceased A-Bomb victims.