THE RONIN TRILOGY - An Epic Historical Fantasy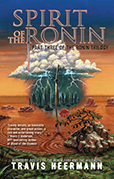 Spirit of the Ronin
Trade Paperback - $16.99, 442 pages, 5½ x 8½", July, 2015, ISBN: 978-1-62225-414-9, Bear Paw Publishing
E-Book - $7.99, (Kindle ASIN B00XLCDF9M), June, 2015, ISBN: 978-1-62225-412-5, Bear Paw Publishing
Limited Edition Hardcover - $40.00, 448 pages, 5½ x 8½", July, 2013, ISBN: 978-1-62225-413-2, Bear Paw Publishing
"When you actively watch out for new writers with potential, every so often you're pleasantly surprised by one who has simply Got It, whose work is ready to push up to the next level. Travis Heermann has simply Got It." – James A. Owen, author of Here, There Be Dragons
"Lovely details, an honorable character, and great action… Travis Heermann's Spirit of the Ronin is a rich and entertaining story." – Kevin J. Anderson, NYT bestselling author of Blood of the Cosmos

A CLASH OF HONOR, LOVE, AND AMBITION
In thirteenth-century Japan, the ronin Ken'ishi's fondest wish has been granted—he has found service with a powerful samurai lord.
But the underworld crime boss known as Green Tiger lurks in the shadows of Lord Tsunetomo's retinue, and Ken'ishi's honor is tested when learns his new master is married to Kazuko, the only woman he has ever loved. His unknown lineage holds dangerous secrets that could destroy him, and his sword, the magical relic called Silver Crane, holds the key to his past…and his future.
With enemies, temptation, and strife assailing him on all sides, Ken'ishi's very soul falls into jeopardy—even as Khubilai Khan's Mongol hordes plot their next attack.

Can Ken'ishi defeat Green Tiger, defend his homeland from the barbarian invaders, and remain true to his heart, his lord, and his honor?

If you love romance, intrigue and action on an epic scale, don't miss this stunning climax to the Ronin Trilogy.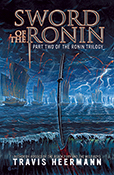 Sword of the Ronin
"From the first sentence, Travis Heermann weaves a tale that sucked this reader into a rich Japanese tapestry full of ronin, samurai and magic. It was hard to put this book down to sleep." – Patrick Hester, Hugo-Award Winning SFSignal.com and the Functional Nerds Podcast
"Travis Heermann takes everything I loved about Heart of the Ronin (adventure, intrigue, sympathetic characters), puts it in a pressure cooker and serves it with a side of Awesome. Sword of the Ronin is his best novel yet and won't disappoint." – Shaun Farrell, Adventures in Sci-Fi Publishing
"Sword of the Ronin is a raw and energetic adventure that explores deep and eternal themes such as honor, love, and betrayal while maintaining an engaging, humorous, living world. It also has an awesome ronin hero who hacks lots of bad people to bits, if you're into that sort of thing. Which you definitely should be." – Rich Wulf, former lead writer for Legend of the Five Rings and author of The Heirs of Ash Trilogy.
"A rich, engaging, morally complex historical fantasy, deeply embedded in Japanese culture.... Sword of the Ronin balances action with more intimate drama as both reader and hero question the way forward, and move through a landscape of war and legends to just the right moment of balance before the third volume. I, for one, will be looking forward to it." - E.C. Ambrose, author of Elisha Barber, The Dark Apostle series
"Those interested in Japan's culture and history, including ancient mythology will find this book an extraordinary read. It is certainly not a story for the fainthearted, but which touches you with its truth-drawing and starkly poignant meaning. As a work of fantasy I enjoyed it very much, although at times it did cause shivers to run down my spine and turned my blood cold." - Goodreads Reviewer
In 13th-Century Japan, a land of ancient spirits, shapeshifting animals, and demons, Ken'ishi is a warrior without a master. Orphaned in infancy, he has only one link to his past—Silver Crane, his father's sword. When Silver Crane is stolen, Ken'ishi must go on a quest to recover his very identity.
The crime lord known as Green Tiger knows of Silver Crane and dreams of the day when he can destroy the shogunate and restore his shattered clan, with intrigues stretching to China, where the Mongol emperor Khubilai Khan builds an invasion fleet.
With his only weapon a wooden sword, Ken'ishi enters the shadowy world of flesh houses, Chinese smugglers, and Mongol spies.
To succeed and unleash Silver Crane's power, he must face the darkness in his own soul.
Set in 13th-century Japan, The Ronin Trilogy tells of the rise and fall of a young warrior named Ken'ishi. With only his father's mysterious blade to guide him, he walks dangerous lands in search of honor--and the truth about his parents' murder.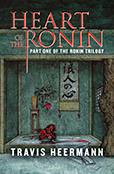 Heart of the Ronin
Trade Paperback - $15.95, 386 pages, 5½ x 8½", December 16, 2010, ISBN: 1617560758, Open Road Media
E-Book - $4.99, (Kindle, Sony, Nook, iPad), December 16, 2010, ASIN: B004HZYGOA, Open Road Media
Library Edition Hardcover - $25.95, 442 pages, 5 x 8½", February 18, 2009, ISBN: 978-1-59414-779-1, Five Star Publishing, a division of Gale-Cengage Learning
"A fusion of historical fiction and adventure fantasy, the first volume of Heermann's Ronin Trilogy is a page-turning folkloric narrative of epic proportions…. [His] writing style is confident and fluid, his characters well developed and his serpentine story line anything but predictable. Numerous tantalizingly unresolved plot threads will have readers anxiously awaiting the second installment in this gripping tale of ill-fated love, betrayal and destiny." – Publishers Weekly
"Full of sword battles, intrigue, romance and fantastic elements blending well with historical ones, Heart of the Ronin is a very impressive opening in the Ronin Trilogy. It's also a page turner that you can't put down and will leave readers begging for more."– Fantasy Book Critic
"Heart of a Ronin is a solid, likeable adventure story, sure to please fans of Japanese culture and fantasy readers alike." – Adventures in Sci-Fi Publishing
Thirteenth-century Japan is a dangerous place, even in a time of peace. Capricious gods, shape-changing animals, and bloodthirsty demons are as real and unpleasant as a gang of vicious bandits. From the wilderness emerges a young, idealistic warrior with his father's mysterious sword on his hip, a wise, sarcastic dog at his side, and a yearning in his heart to find a worthy master. He dreams only of being samurai.
Finding a master should be easy for a warrior as skilled as Ken'ishi, but the land has settled into an uneasy peace and cast multitudes of proud, powerful warriors to the four winds. These masterless warriors, ronin, often must stoop to crime and banditry to feed themselves. Ken'ishi finds himself plagued by the hatred and mistrust of peasants and samurai alike.
When he saves a noble maiden from a pack of bandits, he and his faithful dog become enmeshed in the intrigues of samurai lords, vengeful constables, Mongol spies, and a shadowy underworld crime boss known as Green Tiger. But Ken'ishi has a few secret weapons of his own, granted to him by his mysterious past and his magical upbringing. If only he knew more about his mysterious past, his parents' murder, and the sword that seems to want to talk to him. . . .

Heart of the Ronin is an action-packed historical fantasy, set against the backdrop of ancient intrigue and impending war, the first of a sweeping three-part epic filled with deadly duels and climactic battles. Creatures of folklore and myth are as real as the katana in one's hand. And just as deadly.