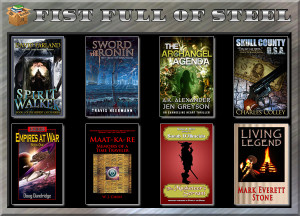 I'm delighted to announce that in the run-up to the release of Spirit of the Ronin this summer, Sword of the Ronin is appearing in a bundle of ebooks with some amazing indie authors.
This bundle is called FIST FULL OF STEEL, and here's the best part: you can name your price!
Urban fantasy? Check.
Historical fantasy? Check.
Thriller? Check.
Historical adventure? Check.
Space opera? Check.
Epic fantasy? Check.
This is a great way for you to support independent artists like myself and these fine folks. Please give this a look. This smokin' deal disappears on April 5, 2015.