Audrey Brice
Audrey Brice writes paranormal thrillers, mysteries, and horror stories where spirits, demons, and occult practitioners are both heroes and villains.
As a girl I was terrified of ghosts and physical manifestations of the spirit world after having numerous strange supernatural experiences. By the time I was twelve I set out to explore the unknown. Aside from delving into the occult and participating in ghost hunts, I began writing about those experiences in both fiction and non-fiction in hopes to confront those fears and make sense of them. In fiction, I like to explore the unknown and the dark, but continually find that darkness is within the individual and the unknown isn't so terrifying once you shed light on it.
GIVEAWAY: Everyone who signs up for my newsletter on my website in February will be entered in a drawing to win a Thirteen Covens ebook, or a copy of the audiobook A Rising Damp.
Website: http://www.sjreisner.com
Amazon: https://www.amazon.com/Audrey-Brice/e/B003ZFW3DE
Facebook: https://www.facebook.com/audreybricewriter
Briana Robertson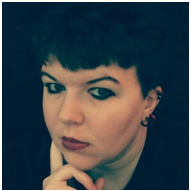 Briana Robertson is the author of all things dark–horror, fantasy, poetry, and more. Advocate for mental health and suicide awareness. Wife and mother of three.
Real life scares the crap out of me. Well, that and spiders.
In all seriousness, though, it is the horror of everyday life that terrifies me. As someone who suffers from clinical depression and anxiety, I know firsthand how scary–and desolating and isolating–it can be to feel like no one understands, like no one's listening, like you're destined to fail, like life isn't worth living.
I'm also a mother of three girls, ages 6, nearly 5, and 9 months. You wanna talk about terrifying? What if they run out into the street (anybody read "Pet Sematary")? What if someone snatches them? What if someone touches them? I mean, the statistics say one in three women will be sexually assaulted at some point in their life; the knowledge that the numbers say at least one of my daughters will go through that–it's kept me up more than one night.
I don't need the supernatural to scare me–life is scary enough.
So how does that influence my work? Well, many of my characters have a mental illness of some sort; this causes their perception of the world around them to be warped, which more often than not leads to not-so-happy endings. My soon-to-be released collection "Reaper" includes stories that deal with suicide, rape and psychological torture, the loss of a child. There's also a sweet short story entitled "Phobia" which was inspired by my own personal dealings with arachnophobia and claustrophobia. And while these stories may not be "scary" in the typical sense of the word–there's no hack and slash, no major gore, no monsters under the bed or serial killers stalking from the shadows–they pack quite the emotional punch to the gut. They are a gruesome reminder that bad shit happens to good people and death doesn't discriminate.
And seriously–what's more terrifying than that?
Website: https://www.stitched2016.wordpress.com
Amazon https://www.amazon.com/-/e/B01K5S2T9G
Twitter: https://twitter.com/Briana_R_Author