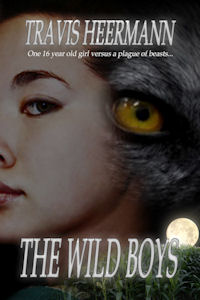 It's here! The Wild Boys storm the publishing world!
Well, not really. Too much hype…
The Wild Boys will change your life!
Sigh, still too much…
Maybe I'll dial it back just a little.
I am proud to announce that my Young Adult horror-thriller novel has just been released by Damnation Books. And look! Just in time for the holidays!
"A fast-paced novel about love, loss, and the unforgettable scent of once being human, The Wild Boys is impossible to put down." – Shelly Li, Scholastic Award-winning author of The Royal Hunter: Throne Under Siege
"I recommend The Wild Boys for people who like thrillers, people who like horror, and people who want to read wild chase scenes with plucky heroines (and a dog)." – Kater Cheek, author of the Kit Melbourne series
Can a 16-year-old girl stem the tide of a werewolf apocalypse?
When three younger boys show up on the doorstep of Mia's everyday suburban existence, naked and on the run, she is drawn into a shadow world where a series of strange disappearances heralds a slowly spreading plague of lycanthropy. Mia must save the three orphaned boys from their brutal Alpha, a man-beast who believes humans are food.
A war is brewing for the top of the food chain. Mia doesn't know it yet, but she holds the key to the future of the human race.
Promo Code!
Order by December 31, 2012, direct from Damnation Books and get 25% off with this coupon code!
Coupon Code for 25% off! – 12PE9NGO4MDS